Thank You Biz Magarity!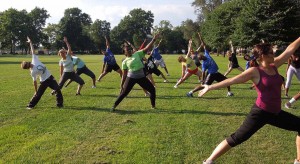 Vincera Foundation would like to thank Biz Magarity of Nava Yoga for "being present" at every major Vincera Foundation event!

Whether it is warming up runners at Students Run Philly Style's Generation Run, providing cross training and yoga instruction at Vincera's summer bootcamp, or introducing our Jocks2Docs participants to the practice of yoga; Biz is there to support us! In her work with Vincera Foundation sports based youth development programs, she enjoys introducing students to "being present" through yoga, to a different way to manage stress, to value beauty in the moment, to give space and time to experience their own being.
Besides her many contributions to Vincera Foundation programs, Biz is busy running Nava Yoga Center at Vincera Institute with her partner Kayla Fell. Nava Yoga Center offers 30+ Vinyasa (flow) classes a week in addition to specializing in yoga for athletes, prenatal yoga, and heated yoga. At Vincera, Biz and Kayla work with physicians and rehab specialists to develop yoga protocols for core injuries and core strength. With Vincera's integrated approach to health,  Biz is in the perfect environment to work with its professionals in developing new therapeutic and complementary approaches to the healing of our patient's sports injuries. Biz reveals that her passion in working one-on-one with athletes stems from the ability to help patients examine their own bodies, reintegrating their being with their body after it breaks down. She quoted a yoga instructor who once told her, you are "helping them to read the manual in their car."
Thank you Biz for "being present" and extending yourself on behalf of our mission!